An innovative product design company is celebrating today after scooping a prestigious international business award from King Charles.
His Majesty The King approved the Prime Minister's recommendation that Lancashire-based GaraDry should receive the King's Award for Enterprise in the International Trade category this year.
The newly renamed King's Award for Enterprise celebrates outstanding achievements by UK businesses and is internationally recognised. The 2023 awardees were officially announced today, marking Queen Elizabeth II's birthday.
Ashley Smith, 43, who founded the company in 2009, has now received an invitation from His Majesty the King to visit Buckingham Palace later this year to celebrate his company's achievement.
Based in Ormskirk, Lancashire, GaraDry designs, manufactures, and sells the world's largest range of threshold seals for residential garage doors and commercial doors. You can order these brilliant products directly from their brilliant website which stocks the a huge range of garage door seals.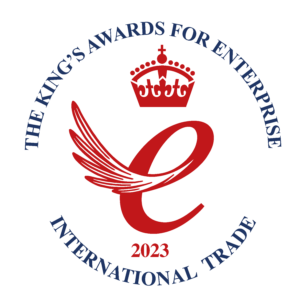 The innovative GaraDry garage door seals and flood barrier kits are designed to form a watertight seal between a garage door and the floor. The threshold seal also prevents leaves, dust and debris from being blown under to ensure a clean and dry garage all year round. The garage door threshold seals also act as a defence against rodents, insects and reptiles.
The 43-year-old, who has a degree in Industrial Design from the University of Central Lancashire,  launched his first online business in 2005 selling garage door spare parts which still trades today.
This experience saw him dealing with customers frustrated with the limited options available for them to prevent water entering their garage. This led to him spotting a gap in the market to create his unique product range that prevents rainwater and debris seeping under garage doors and into commercial warehouses.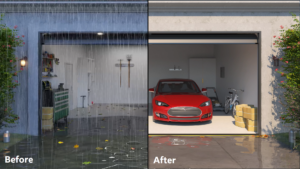 Innovative design for garage door threshold 
Innovations included adding safety features, such as yellow extruded lines on all its products, multiple sizing options and using robust environmentally friendly materials. The firm also supplies its own brand adhesive developed specifically for the product range. GaraDry also introduced the first flood barriers for garages that can be driven over. All the products are protected by design registrations.
Growing company 
The company is actively recruiting, employs 11 people, and has grown its sales dramatically in the last three years. Overseas sales now account for 33% of its UK business. It now exports its range of products to more than 40 countries including most European countries and as far away as Australia.  
GaraDry opened a subsidiary in the USA in 2017 (GaraDry LLC), to handle strong interest from Americans in the products and launched a fulfilment centre in Tennessee to ship transatlantic orders quickly. A warehouse was also set up in Germany in 2022 to fulfil all EU orders and smooth the challenges of Brexit.
Ashley Smith, managing director of GaraDry, said:
"I'm delighted and humbled for our company to receive this accolade. It means the world to our team and receiving this acknowledgement from the King only encourages us even further to grow our business and continue designing innovative products manufactured in Great Britain.

"As well as people wanting to protect the contents of their garage, businesses see the benefit in keeping the products they store in industrial units clean and dry all year round and this B2B market has opened up opportunities for us all over the world. Safety is another driver for them because water on a warehouse floor is a slip hazard.  Our products also protect expensive machinery which is at risk of rusting or cardboard which will get ruined by rain.

 "The fact I started the business with a £1,000 inheritance from my uncle proves that a large amount of funding is not always needed to start a business and to be successful. Drive and determination are often equally, if not more important. I hope this encourages other entrepreneurs to aim high even if they might only have limited resources to start with.

 "I started the business from my mother's home in Ainsdale and used the shed and garage as my stockroom and my bedroom as my office. I'm thankful to my Mum for supporting me during that early phase.

"We're all truly humbled by this award and hope it can inspire other people to pursue their business dreams.

"We are excited about the future. We will continue to work hard and expand geographically and create new jobs here in Ormskirk. We also have a new innovative product range which is under development which we hope to bring to market this year."
Staff loyalty and family values are key to the growth of the business. Christopher Davies, the company's first member of staff is now the General Manager and has been with the company for 13 years. Ashley's wife, Helen joined the company in 2011 and is currently the Company Secretary.
Murray Patt, founder of Alexander Knight & Co, added:
"We are all absolutely delighted to see our client acknowledged by The King as a leading business in the field of exporting innovative British-made products all over the world. There is huge demand for the GaraDry range of garage seals and we are delighted to be their accountants and support them in their growth journey as they continue to innovate, open new markets and create new products." 
See uk.garadry.com
https://alexanderknightaccountants.co.uk/wp-content/uploads/2023/04/GaraDry-wins-prestigious-Kings-Award-for-Enterprise.jpg
512
1012
alexanderknight
https://alexanderknightaccountants.co.uk/wp-content/uploads/2022/02/aknight_logo-white-2.png
alexanderknight
2023-04-21 14:03:25
2023-04-21 14:27:44
GaraDry wins prestigious award